PART ONE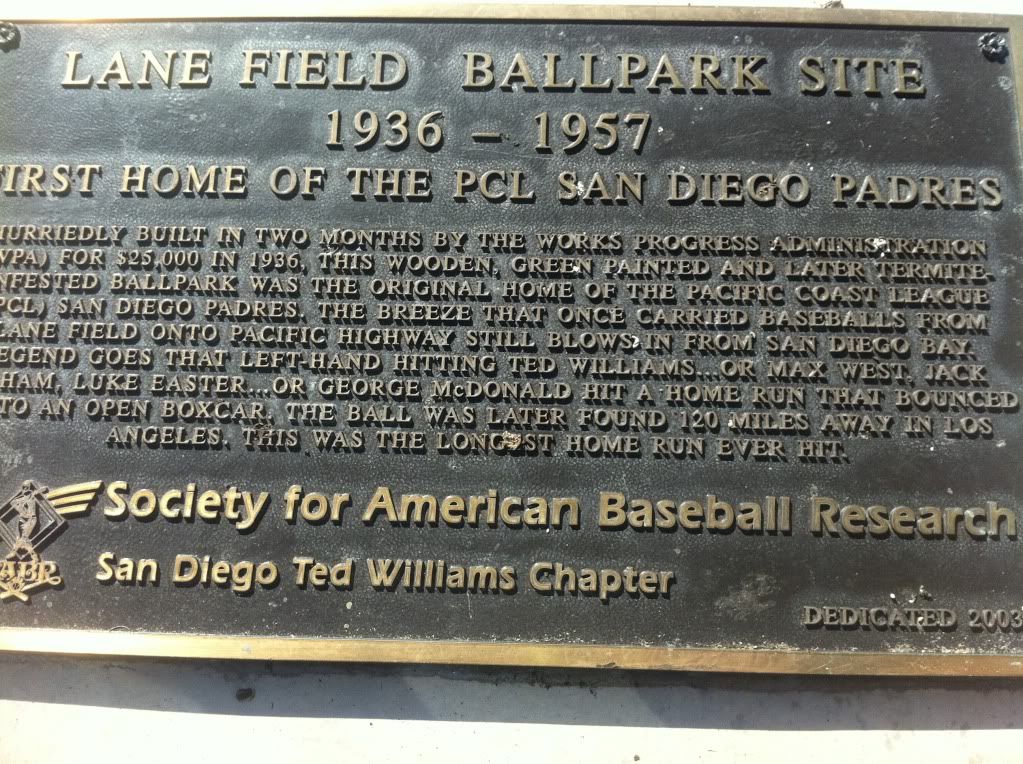 This plaque at the foot of West Broadway marks the former location of San Diego's Lane Field, home of Ted Williams and my grandfather's preferred afternoon hang-out from 1942 through 1957. It sits at what would've been the ballpark's eastern entrance just beyond the right field foul pole at Pacific Highway closest to what Paterno Sirivan would forever call the cheap seats. "Pat" was an uptown guy, always suited and usually rocking a brown felt fedora who preferred to enter through the main gate at Harbor Drive closest to his seat behind the plate where he could hang with similarly attired afficionados:
Fans at the Lane Field Box Office on Broadway at Harbor Dr.
But his outward Ricky Ricardo cool belied the turmoil he stirred at home. His discipline was old school to a degree that only the children of immigrants might comprehend, and as my grandmother's second choice he had her two kids, my mom and her brother, from a previous marriage to deal with--which isn't to imply that he was happy about doing it. To this day, my mother refers to her step-father simply as "The Old Man." She will concede that he was nothing if not dapper, and that if there was anything he loved and tried show his family how to love it was baseball and his team of choice the San Diego Padres.
He'd learned the game as a boy in the Philippines playing pick-up games in the street with American sailors and watching their club teams play in the recreation fields on the U.S. Naval base at Subic Bay. I don't know much more than this about the origin of his passion for the game, but I will say it evolved into a lifelong love of things "American" and a stint in the Navy that got him shipped to San Diego and stationed at 32nd St. where he worked as a cook. While there he battled Aniceto Medina (my mother's biological father) for the affections of my grandmother-to-be, but eventually lost out. Undeterred and if any of the photographs I've seen of him over the years portray him as he actually was more than likely cocky enough to think she'd change her mind he decided to wait the situation out. I would insert an image here a candid shot of him strutting down Broadway near Horton Plaza taken by a street photographer. The Old Man actually admired the picture of himself enough to purchase it, but my mother claims it "got lost." His strategy while short-sighted showed determination, and he waited.
Aerial view of Lane Field
In those days the Padres had outgrown their former status as a AA affiliate for the Boston Red Sox, but stars like Williams were long gone. Playing independently in a league where only the Los Angeles Angels (Cubs) and Hollywood Stars (Pirates) were associated with major league teams recruiting new talent was difficult with no potential call up to the big leagues for clubs to offer. Most young players were off fighting World War II, and the Padres wrapped up the 1944 season dead last in the Pacific Coast League standings going 75-94. The Padres would finish no higher than 6th during the late war years. But as is the case with so much of that era in general, the lean times defined the strongest and truest, and the fans that stayed on board solidified the team's base. Going into spring training that year there was talk of a redesignation to AAA status. Pat Sirivan was among the optimists. Already 46 years old and semi-retired he had time to devote to being a fan often keeping score while posted up at the barber shop on Ocean View and 32nd or making one of his frequent visits to Lane Field. He also kept in close contact with my grandmother biding his time but also trying to make good on a promise he had made to his rival that he would look after my grandmother and her sister while Aniceto was at sea.
On February 21st, 1945 a tragedy with rippling affects ripped the door wide open for Paterno. Just nine days after she had delivered fighter planes for the assault on Iwo Jima the U.S.S. Saratoga was assigned to escort three U.S. destroyers to nearby by Chi-Chi Jima. Around 5:00pm that afternoon an air attack developed. Six Japanese fighter planes scored five bomb hits on the carriers deck. A hole was ripped out of the ship's starboard side and major fires ensued throughout the hangar deck. Aniceto Medina was working in the highly volatile magazine as part of the team responsible for running ammunition from the lower decks to the anti-aircraft guns and cannons above. Surrounded by fire in a room full of bullets and bombs, explosions eventually overwhelmed his team. The ship survived unlike the U.S.S. Bismark that was sunk in the attack, but Aniceto, my grandfather and mother's father, was one of 123 men who died on the Saratoga that day. We remember him most as the one we never met--my mom and I. A short time later my grandmother received his Purple Heart in the mail. A few months after that, Paterno proposed.
Saratoga hit by Kamikazes, 21 February 1945.
Video of the attack on the Saratoga