In 1954 led by manager Lefty O'Doul the Padres finished first in the Pacific Coast League for the first time since 1937. By 1956 the Padres were playing Open Division ball, one step above AAA and one step away from joining Major League Baseball as a third league. Only the PCL ever received that designation as major league owners contemplated the untapped West Coast market. Pat and Grandma Pearl had settled in by then in a house on South 33rd St. between Imperial Ave. and Ocean View Blvd (at that time Filipino territory). My grandfather planted fruit trees and two large cypress at the front gate. He built a chicken coop and a vegetable garden. He erected a flag pole where he ran up the stars and stripes each morning and took it down at sunset.
My Grandparent's house on S. 33rd as it appears on Google Maps today.
There were two more children now, my aunt Patricia going on 8 and Pat Jr. who was 6, and family life had shifted dramatically. My mom and her brother endured step-child status under conditions she described as something "slightly better than slavery'" made to perform the bulk of household chores and constantly referred to as "his kids". Entering their teens they rebelled ditching classes at Memorial Jr. High to drink homemade fruit wine in Balboa Park. My uncle Johnny was a pretty boy turned cholo getting into random fights and trying to look good while doing it. And there were daily battles among them all that found my mom and uncle constantly shuttling back and forth between the Old Man's house and the house six blocks away—the home of my grandmother's sister and most appropriately named Ola.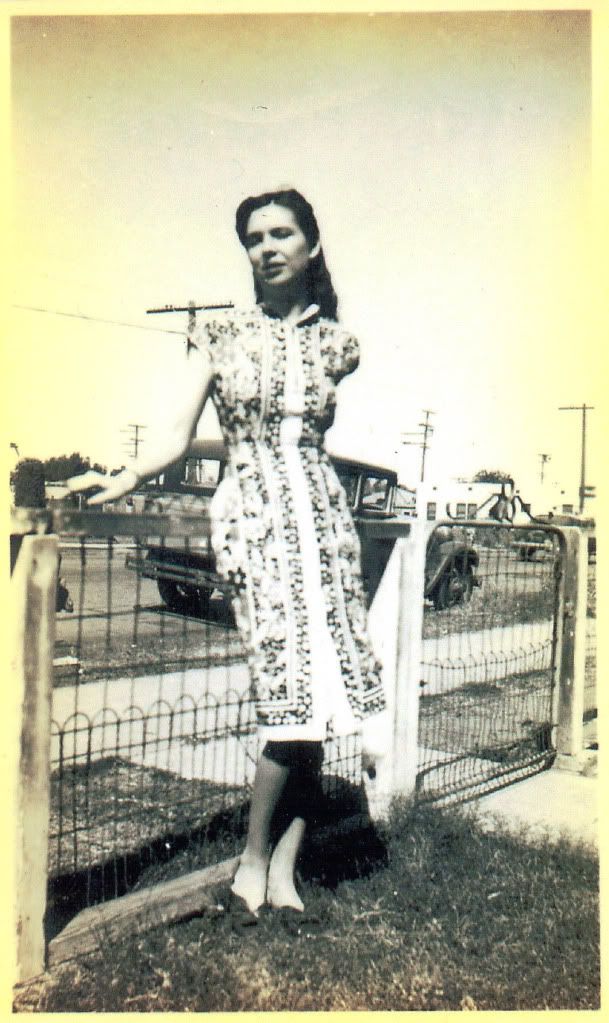 My Great Aunt Ola in the front yard on 33rd St.

Spanish for "wave" my great aunt Ola helped her niece and nephew navigate the space between Paterno's outright tyranny and his awkwardly applied obligation to raise them as he fulfilled his promise to Aniceto. The little sister of a runaway herself she had wisdom to share on the pros and cons of leaving a "good provider".
Grandma Pearl at age 12, 1931
My Grandma Pearl had run from similar circumstances as a 17-year-old girl. She arrived in San Diego in 1937 the same year Ted Williams and the Padres won their first PCL Championship. She spent three years waiting tables at the Chee Chee Club on Broadway when it was off-the-path enough to serve even the Filipino sailors. One of them was Aniceto Medina.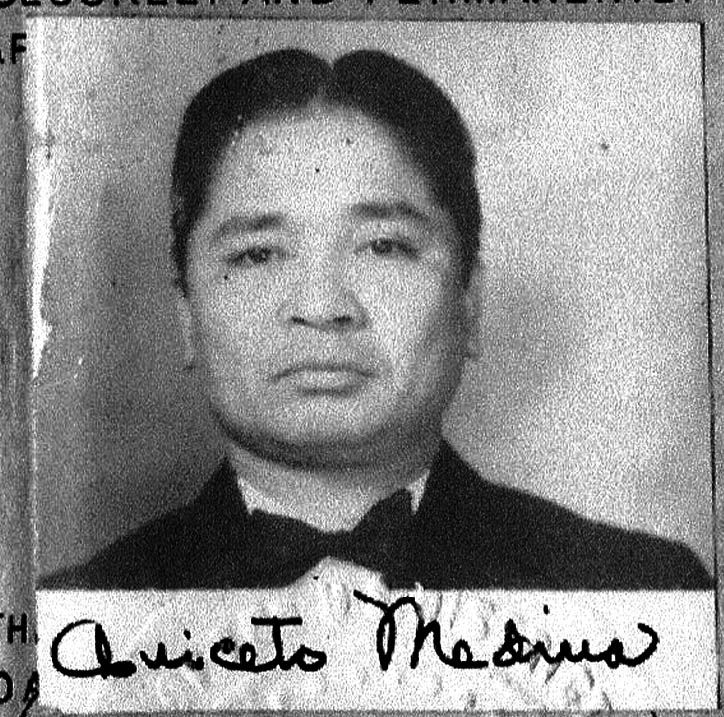 Aniceto Medina, 1940
Aniceto had barely arrived in San Diego early in the year of 1941. He had come through San Pedro where the immigration processor listed his Place of Residence as the USS Saratoga, and my grandparents courtship moved as quickly as the CV-3. Between April 2 and June 21, 1940 the ship was involved in what the US Navy called Fleet Problem XXI a defense of the Hawaiian Islands. In mid to late October of that same year the crew delivered personnel from San Pedro to Hawaii then returned for an extended dry dock and overhaul at Bremerton Shipyard in Puget Sound on January 6, 1941. With the Saratoga under repair Aniceto began the first of only two prolonged stays in San Diego. Having met my grandmother in the bar that was already "divey" even then (a testament to my grandmother's spirit that she could handle herself in a roughneck navy bar) their courtship was short, and they married quickly. In fact, when the Sara sailed for Hawaii on December 8, 1941, the day after the attack on Pearl Harbor, my uncle was already on the way, and on April 14, 1942, John Medina was born.
The Chee Chee Club as it appears on Google Maps today.
My mother arrived in similar fashion. After a year of and a half of constant deployment in both the main theaters of the Pacific War and and support missions in and around Australia and Java, the Saratoga reportedly limped into Puget Sound battle scarred and in need of repairs on June 10, 1944. Aniceto was dispatched to San Diego along with the rest of the crew. The ship sat in dry dock through the summer but on September 24th it arrived in Pearl Harbor. My mother was born January 17, 1945 two months premature but exactly seven months after Aniceto's July homecoming. He never made it back to meet his daughter, and while his story remains largely unknown, buried beneath both the Pacific Ocean and a lifetime of suppressing all unnecessary talk about "him," he left his mark on all our faces. Even my sons have it. I can see it every time someone says they look like me.